Starting in January 2020, all New York adoptees over the age of eighteen will be able to get their original and unredacted birth certificates. New York will become the 10th state to restore the right to adoptees to obtain their birth record, which will name their birth mother. Descendants of deceased adoptees will also have the right to the birth vital record. Send your thanks to the New York Adoptee Rights Coalition. The enacted law will (from their website):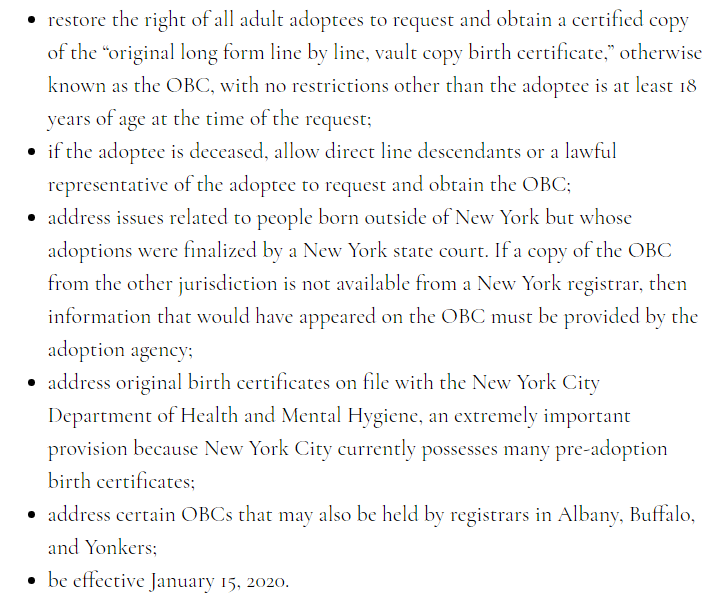 Reclaim The Records noted in a Facebook post that the The New York Genealogical & Biographical Society was the only other genealogical organization or historical society to publicly sign on to support the New York Adoptee Rights Coalition and this bill, S3419/A5494. That's distressing. We need more organizations that foster knowledge of family history to actively participate in opening adoption birth certificates and Social Service files.
And some state legislatures have shown little interest in open records. So much so that at this point I don't think there's even an organized body of people in California who are working with legislators to get a bill sponsored that would loosen the law sealing adoptees' original birth certificates. Other states, Texas, for one, have active organizations.
Alabama, Alaska, Colorado, Hawaii, Kansas, Oregon, Maine, New Hampshire, and Rhode Island are the only other U.S. states where adult adoptees have unrestricted access to their original birth records. Arkansas, Connecticut, Delaware, Illinois, Indiana, Maryland, Massachusetts, Michigan, Minnesota, Missouri, Montana, Nebraska, New Jersey, Ohio, Oklahoma, Pennsylvania, South Dakota, Tennessee, Vermont, Washington and Wisconsin have a range of restrictions: birth parents can block release or have their names removed, birth date and adoption date may limit availability, access may be available through intermediaries, only, or mutual-consent registries.