Have you searched for ancestors' Naturalization and Citizenship Records in the major genealogy databases but found no record? Naturalization records may have been filed in a local or state court, usually where the applicant was living. Starting in the early 1900's the Naturalization documents were filed in federal District and Circuit courts. These are the records that the commercial and non-governmental genealogy websites have collected.  But the state archives house the series of Naturalization forms from states or counties within those states that the applicant completed: Declaration of Intention, Oath of Allegiance, Petition for Naturalization and Certificate of Naturalization. 
My favorite "secret" location for online records are the state digital archives. Here you can find maps from different eras, school yearbooks, city directories, military pay vouchers and troop returns, tax lists, Wills, court documents, newspapers, and more. Microfilms of births, deaths and marriages and other document images and indexes that are not digitized may be ordered through interlibrary loan.
Anyone researching a family history — including adoptees — should take a look at the digital collections in the state repositories.
I reviewed the collections at two major genealogy sites, looking for an ancestor of a family that resided in North Carolina. Census records indicated that he was born in Russia, but there were no immigration or naturalization records. Working my way back from records I found in the North Carolina State Archives, I discovered that my ancestor was in Scotland County. Check the catalog of collections at Ancestry and FamilySearch for Naturalizations in Scotland County and you'll discover that at one the state is excluded and at the other the county is missing.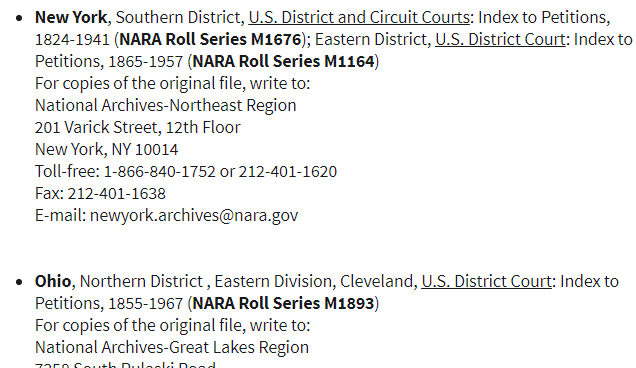 The Digital Collections of the State Archives of North Carolina and the State Library of North Carolina include Scotland County: Alien, Naturalization and Citizenship Records. The whole collection is searchable. So if you don't know the geographical location or the type of record you're looking for, you can search by the individual's name. The first record was a biographical summary of the Naturalization documents, showing his place of birth, family members and their dates of birth and the date that his Petition was filed.

This was followed by scans of the actual records, all of which can be downloaded to your computer.
Take a glance at the collections in all state archives and historical societies.